Great news – Karate classes are resuming in the UK!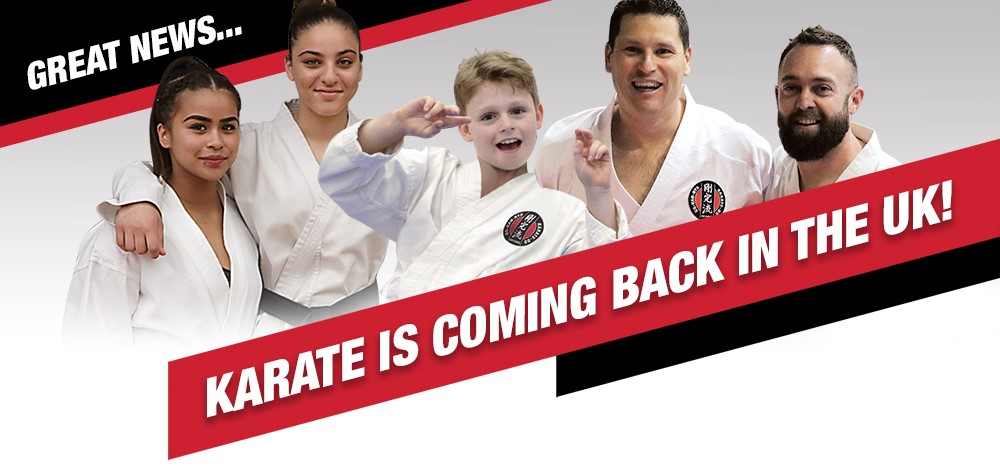 Hello to all GKR Karate Students and Parents,
It's certainly been a challenging few months for everyone in the country and we hope you and your families are in good health and high spirits under the circumstances. Our sympathies go out to anyone close to you who became ill over this time, or who suffered adversely from the economic shutdown.
Last week, we received some exciting news…
KARATE CLASSES CAN RE-START FROM MONDAY 27 JULY IN THE UK!
Where we are approved by the venue to do so, our normal class timetable will resume at the same venues from Monday 27th July onwards. There may still be a few venues whose re-opening is delayed and your local Senior Instructor will keep you updated as soon as anything changes. Please keep an eye on your Region's Facebook page for the latest information.
RE-STARTING
For the first few weeks back, we may be required to limit the size of our classes. This could see us install a temporary booking system for some of our more popular dojos. We will let you know in a separate message if this applies to your dojo. Thank you in advance for your co-operation if this applies to you.
Online Dojo Members
Students who have been paying a reduced monthly fee for the Online Dojo during lockdown will continue to enjoy full access to this large video library as a thank you for supporting us during this time. Please note that our LIVE Online Zoom classes will wind down gradually as our dojos re-open.
Safety Protocols
The government's permission for us to re-open has been granted providing we adhere to directives outlined by health authorities. The safety of both students and instructors are of paramount importance to us, and we'd like to re-assure you that a series of modified training protocols have been created that exceed government requirements. Please click here to view these changes.
We are very excited to be re-opening after this extended break, and look forward to seeing you in the dojo very soon!
Kind regards,
GKR Karate