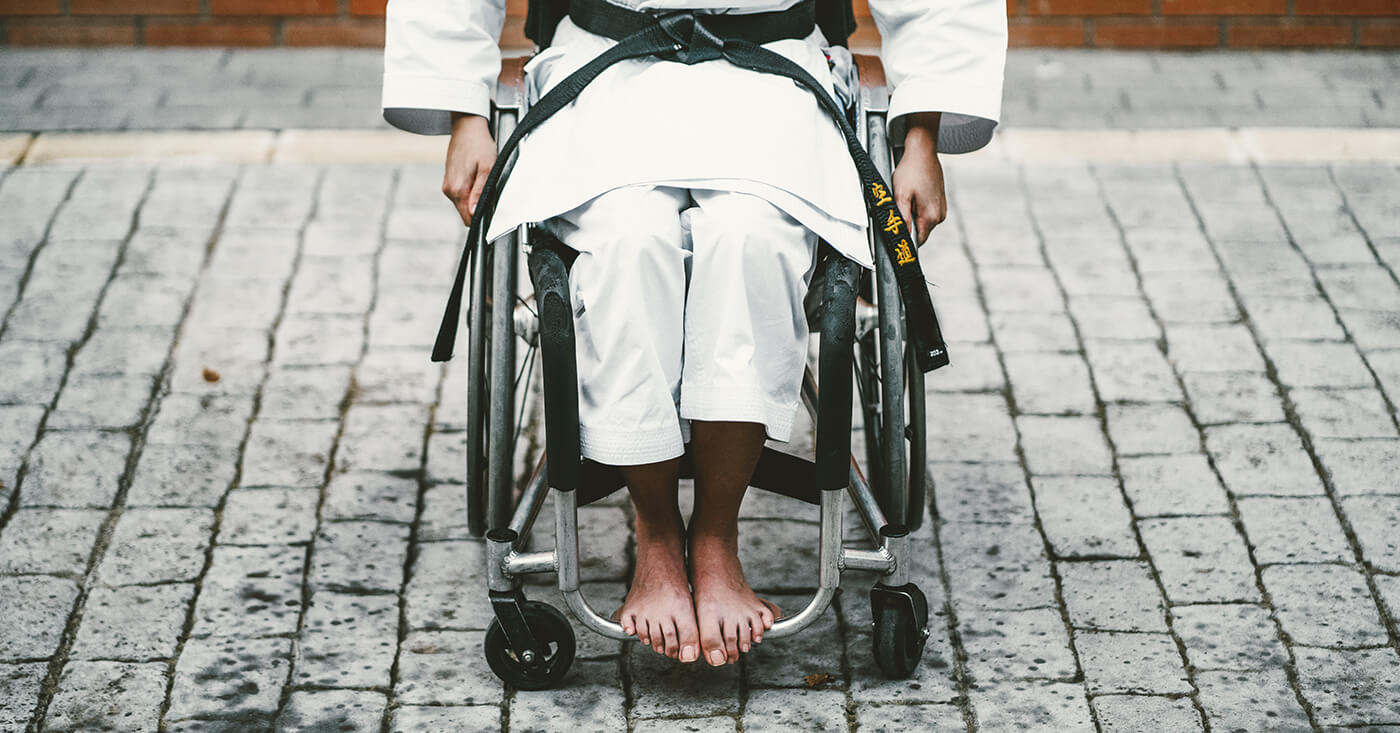 International Day of People With Disability (IDPWD) is a United Nations-observed day celebrated annually on the 3rd of December. 
IDPWD aims to increase public awareness, understanding and acceptance of people with disabilities, and celebrate their achievements and contributions.
Approximately 18% of Australians, 24% of New Zealanders and 21% of the UK population are living with a disability.
GKR Karate classes are non-contact, safe and fun, focusing on the physical and emotional development of each individual student, making it the perfect activity for people with disabilities!
Benefits of Karate
Balance, coordination, strength and motor skills
From a fitness perspective, the techniques practised in karate involve the use of every available muscle and bone in the body. This helps to develop balance, agility and coordination.
By learning moves through repetition, reflexes will improve and reaction times will increase. Stability and coordination will also develop over time. 
Concentration and self-control
Attention is key in karate. A single kata can have dozens of different movements, but these are taught gradually – repeating and adding steps. 
Students must stay focused on the kata in order to learn and retain the patterns. Over time, students learn how to pay attention to small details such as knuckle position, or the angle of the feet. 
Learning how to pay attention to these details improves mental and spatial awareness, keeping students more sharp, focused and improving your attention span. 
Self Defence
Single karate techniques which allow for quick and flexible movement can be effective in real life situations. Karate training sets out to develop instinctive habits that can be used in real-life confrontations. 
Confidence & character development
As karate is an individual activity, students can develop at their own pace with no pressure of letting others down. When students see themselves becoming more skilled, coordinated and fitter week after week, their self-confidence grows. 
Earning a new belt every time a student reaches the next grade helps to boost self-esteem and motivation. 
By constantly breaking preconceived mental and physical barriers, students learn the power of persistence. 
Social skills
Our classes foster an environment where friendships are easily formed through shared goals and interests. Whilst karate is an individual activity, the team environment of classes is social and interaction is constant, providing students with a sense of belonging.
With increased exposure to social interactions in a small group of like-minded people in class, students can become more comfortable in social settings outside of the dojo.
---
Why GKR Karate?
GKR Karate is an inclusive club that caters for people of all abilities, backgrounds and ages – hence our slogan "Karate for Everyone". You can read the stories of some of our students and instructors who are living with some form of disability in previous issues of Shimbun magazine:
Brain Haupt – Master of the Dark Arts
Brisbane-based black belt Brian talks of his experience in learning karate after losing his eyesight during early adulthood. 
"When I am hearing, I don't just use my ears, I use my feet as well. Depending on the flooring in the dojo I can sometimes feel their movements through the floor and if they are breathing heavily it helps me to work out where they are." – Brain Haupt
Harry Simms – Confidence Kick
Dyslexia is a learning disability which affects approximately 10% of the population. Harry, who is now 16, joined GKR at 6 years of age and immediately took to the sport. 
"I stuck with karate because I liked the fitness side and the mental challenge. As a sport it keeps making you push forward; you are always learning new things and preparing to take the next step."
Bill Terry – Back from the Brink
Despite only having one fully functioning lung and a "leaky" heart valve, GKR Karate Instructor and black belt Bill successfully graded to Shodan-Ho in 2020. 
"If you have nothing to focus on then nothing will happen and you will stagnate. I figured I'd never be going back to karate but I had to imagine that one day I might so I could aim my recovery towards it – whether or not I fell short didn't matter, I just had something to aim for."
If you're not already a GKR Karate member, head over to our Locations page to find your nearest dojo!