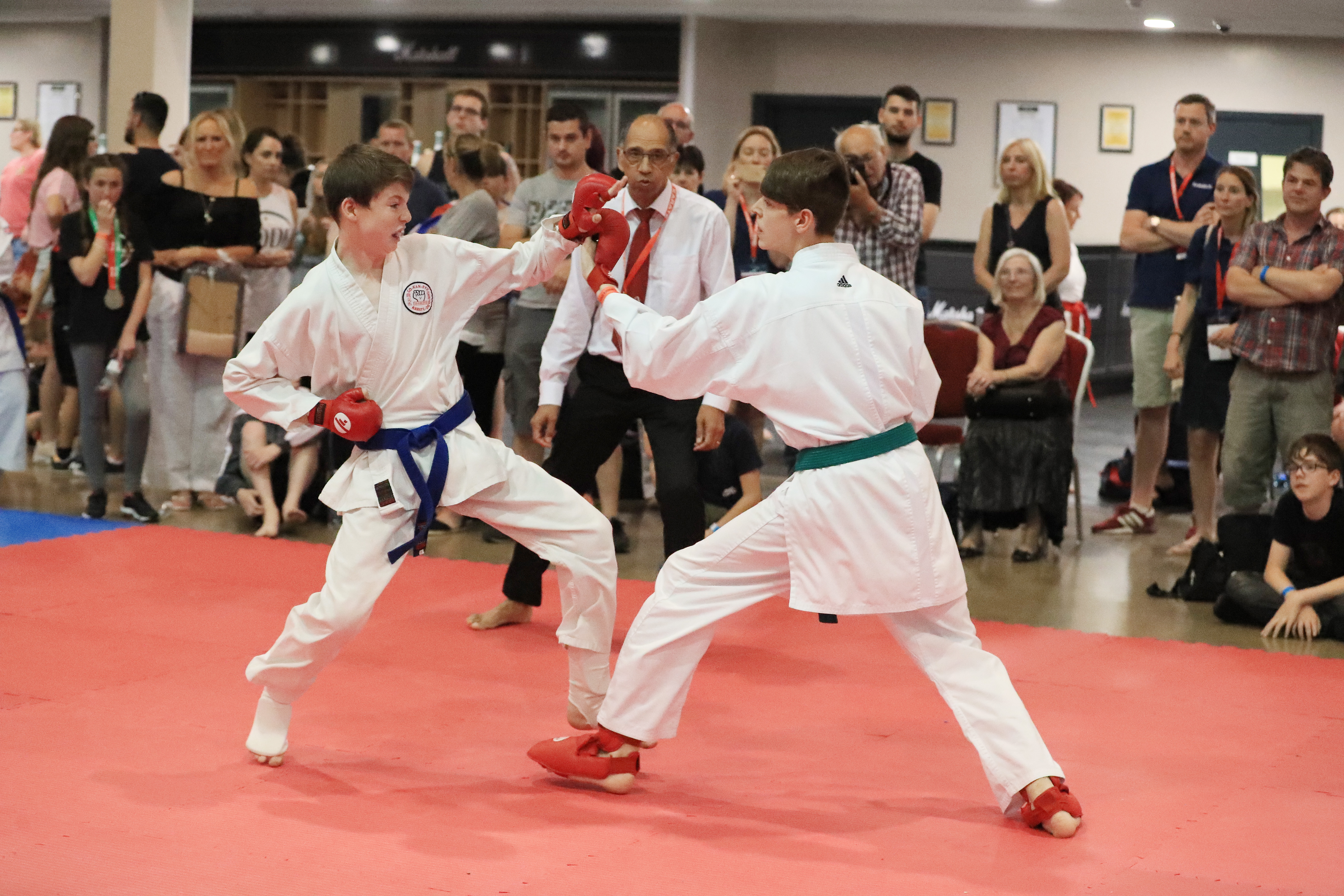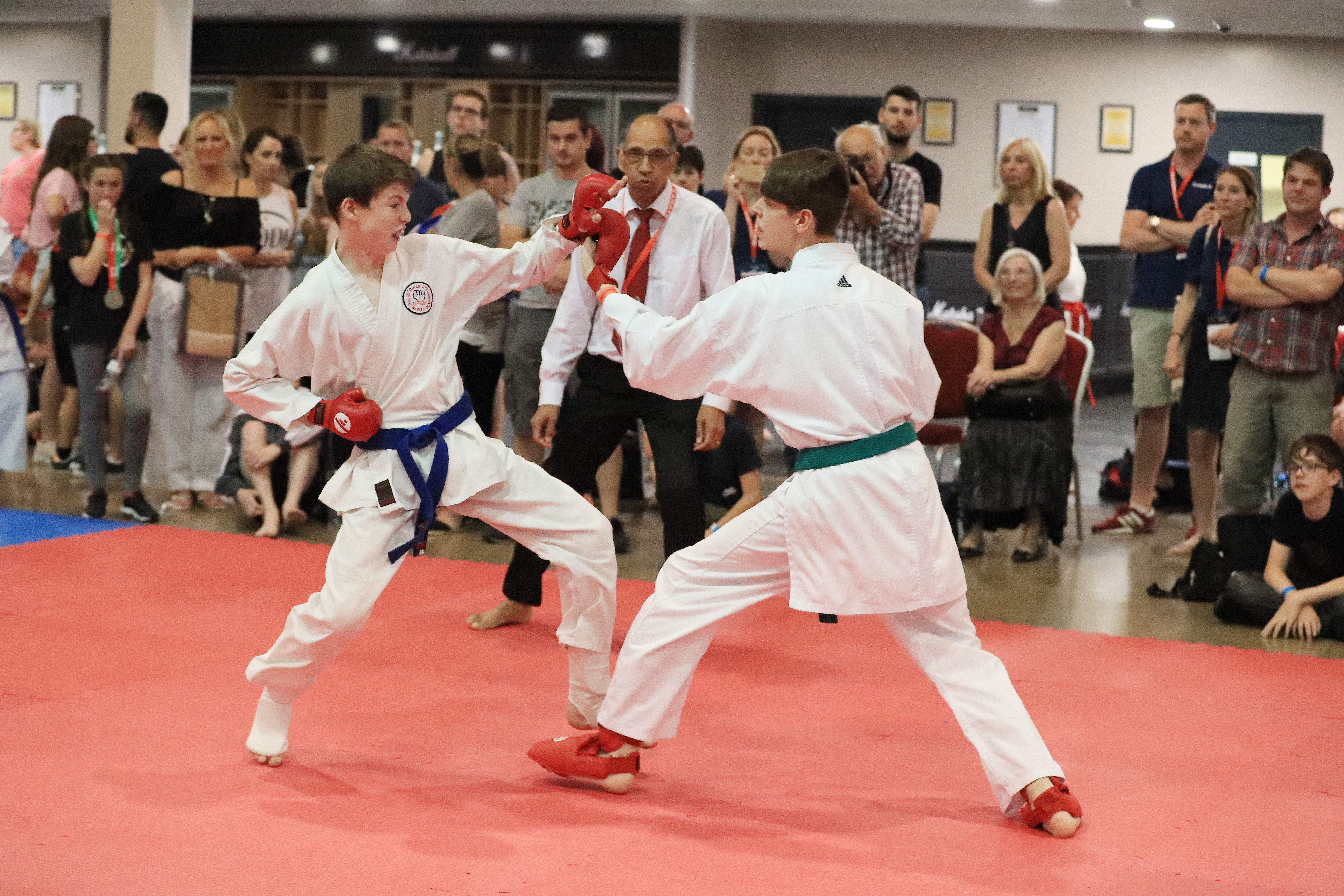 CONFIDENCE KICK
How spending time in the dojo delivered a dramatic boost to a dyslexic student's self-belief
WHEN Harry Simms first expressed an interest in taking up karate, his parents feared a gi would not prove the most natural of fits.
With kata sitting at the martial art's core, they were concerned how their six-year-old son, who sometimes had difficulty with the written word and found sequencing a struggle, would cope with remembering the complex moves on display in the dojo. And although at the time Harry had little understanding of what it meant to be diagnosed as dyslexic, he too suffered some early doubts about the suitability of his choice of sport.
"I remember my first class as being really scary," the 13-year-old told Shimbun. "I was worried about the discipline and getting told off and worried about remembering what I had to do and when."
Harry's concerns – and those of his parents – were, however, short-lived and he quickly progressed from a white belt to 6th Kyu and qualified for the GKR Karate UK National Championships in 2015.
"I stuck with karate because I liked the fitness side and the mental challenge," he explained. "As a sport it keeps making you push forward; you are always learning new things and preparing to take the next step."
"I'm not sure if being dyslexic has made karate more difficult or helped me to be honest. "I don't find kata easy, but I think – and have been told by my sensei – that I pick them up fairly quickly. I find it easier to remember patterns in my head than I do writing things down. I can picture the patterns in my mind when I'm doing them."
"The more you practise your kata, the more of them you remember and if you've practised them enough you have to then just trust yourself."
Harry admits having faith in himself is something he previously found difficult as a result of his learning difficulty and he credits GKR Karate with teaching him to hold his head up high. He points to being asked to lead a warm up for a packed class at Farnham dojo as the moment his self-belief began to soar.
"That first time was nerve-wracking," said Harry, a Year 9 student at All Hallows Catholic School. "I'm quite shy and never really used to like talking in front of big groups, but to be honest I really don't mind any more.
"It's great to see people doing what you have asked them to do. In karate, everyone responds and shows whoever is talking respect and that makes you feel more sure of yourself."
Harry also highlighted the morale-boosting effect bowing a class in and out can have.
"You have to make it sound like a command rather than a request so that everyone follows and when a whole class is listening to you it fills you with confidence.
"I am definitely more confident in class at school now," he added. "I'm no longer worried about answering a question whereas before I didn't want to be noticed."
Despite Harry's new-found confidence and excellent academic progress, his karate journey has not been without bumps in the road and he found progressing from green to blue belt to be a significant challenge.
Reflecting on his 18-month wait to grade, he said: "There was a brief time when I wanted to give up.
"I felt I was stuck and going nowhere having reached green belt quite quickly. What kept me going was that when I went to classes I was still enjoying my karate and that kept me interested.
"I liked karate, I just didn't like the colour of my belt and was frustrated at not being a higher grade."
The wait, of course, made the prize all the more worthwhile and Harry hasn't looked back since grading to 5th Kyu last summer. Buoyed by wearing blue, he made the decision to return to tournament karate after a three-year break, qualifying for the UK National Championships at the first attempt and returning home from Sheffield with a bronze medal in kumite having excelled in a division dominated by red belts.
"Getting my blue belt was sweet," Harry said. "I knew I'd had to dig deep and it meant more because of that.
"Just being back at the National Championships was great, but winning a medal was amazing because I didn't expect it. I thought the other finalists would be better than me but I just kept going and the experience has definitely given me even more confidence in myself.
"If I now come up against someone who I think is good at karate, I don't immediately think they are better than me."
While medalling at this summer's World Cup is his immediate target, Harry says he is committed to karate for the long-term and is set on becoming a black belt. He knows that doing so will take hard work and hours of practise but is ready for the challenge.
"I'm the only one from my friendship group who does karate, but that doesn't bother me," he said.
"I don't mind the step-up in training as you reach the higher grades. You have to be dedicated to improve and I can see that it is worthwhile. I get a buzz from doing better and better."
Seven years after taking part in his first class, nobody would argue that karate is not a good fit for Harry.
But why does the former "shy guy" think the sport suits him so well?
"I really like the etiquette and how you have to behave to others," Harry concluded. "In some sports, like football, people don't always show their teammates or opponents respect.
"In the dojo you are always treated seriously and no matter what your grade, you are seen as an equal."
"I think people have always shown me respect at school, so that has not changed because of karate, but it has made me feel better about myself."