Introduction to Kata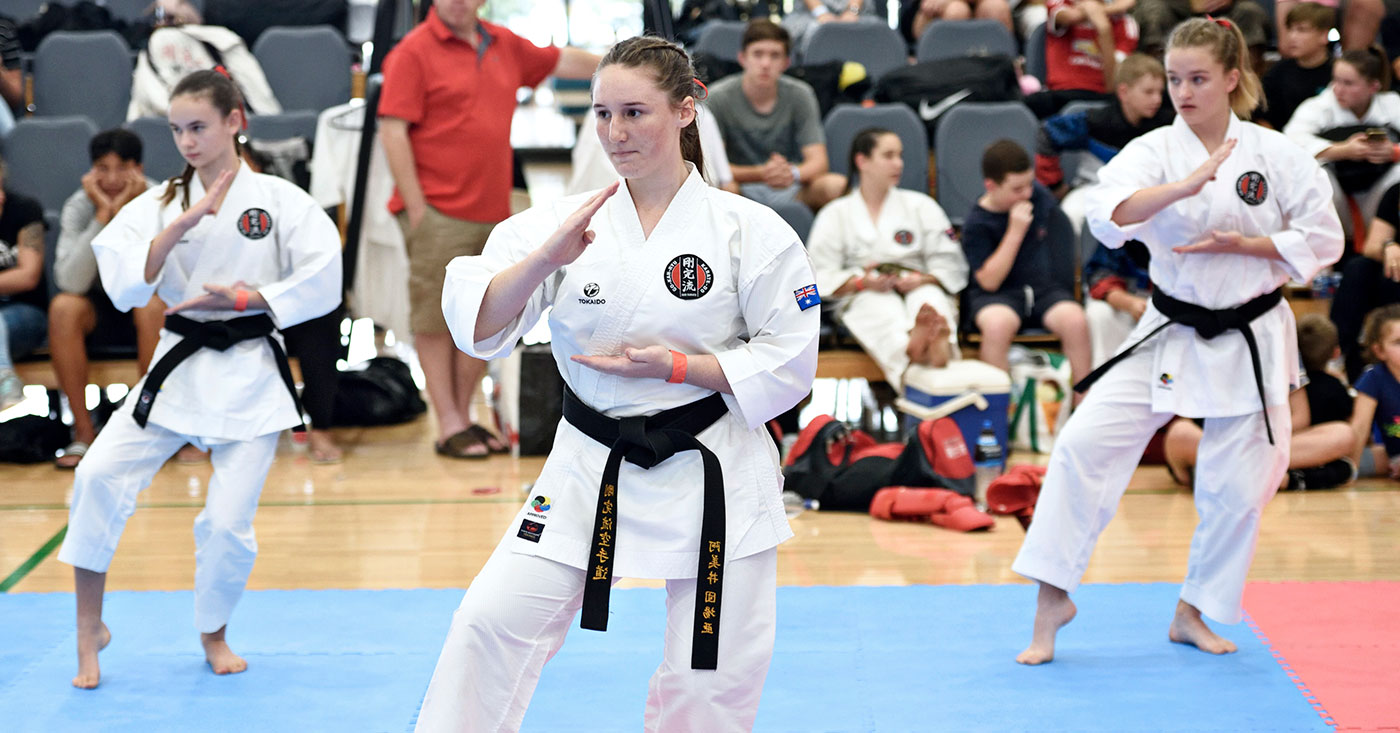 In short, kata are formalised sequences of movements put together to represent various offensive and defensive techniques, strategies and postures involving striking, blocking, wrestling and grappling, throwing, sweeping, destabilising etc. Kata is generally regarded as the art form to karate but its practice extends well beyond an art form.
Health And Fitness
Kata practise is an excellent physical workout, focusing on developing endurance, strength, explosive speed, correct posture, coordination, flexibility and breathing. From a self-defence perspective, it seeks to forge a student's body into a weapon (so to speak) and then teach the student how to use this weapon.
Self-Defence
Kata also allows a student to develop their self-defence skills on their own (any time or any place). Boxing clubs for example often have students spend hours hitting punching bags. This is because both boxing clubs and many Martial Arts focus predominantly on striking with a closed fist to a hard area of the body (jaw, face, ribs etc). Karate by comparison focusses on directing techniques towards vulnerable areas; anatomical weak points (such as the eyes, nose, throat, groin etc). Because of this, developing enormous power is unessential – speed and swiftness becomes quintessential. The advantage of this focus is that a smaller person can cause serious damage to a much larger opponent. This is virtually impossible using the sport style punching strikes.
Mental Training And Relaxation
Kata also trains the mind, developing a students concentration and self-discipline. Every technique within every kata has an exact path laid out – and the goal of each technique is to achieve perfection. This serves to develop an attitude of 'commitment to excellence' that can be carried on into your regular life. Additionally, it also serves to direct a students focus inward. Modern society often has us focused on our hectic, stressful lives and as a result, too few of us take time for ourselves. The inward focus of kata teaches us to let go of everything in our mind and bring our attention back to ourselves. The simple fact of focusing on correct breathing and posture often has kata referred to as a form of 'mobile meditation'.
GKR Syllabus
There are 15 different kata in GKR's Grading Syllabus. The balance between offensive and defensive techniques, the stances used and the direction and flow of movement all serve to give each kata its own distinctive character. Each kata is also unique in that it teaches not only different self-defence techniques, but promotes a different set of senjutsu (combat strategies or philosophies).
Kata History
Each of GKR's 15 kata are traditional kata dating right back to the birth of karate. The fact that many of the old kata are still practised today (in some cases centuries after their development) means that kata also serves as an historical link, or blue print, to masters of the past. By studying kata, we get an insight into the favoured self-defence techniques and strategies of many of the masters who have influenced karate to what it is today. These people go back to old Okinawa and even China.
The Life-long Journey
While the kata start out relatively simple to learn and perform, as you progress through the grades they will become more complex and challenging – yet equally exciting. Each kata is considered by many as an exciting, life-long adventure. The novice student will feel that they have mastered one kata and want to move on. Meanwhile the advanced student understands that the more they know about each kata, the more they don't really know.
The life-long journey extends beyond the learning and understanding of, and being able to apply the countless self-defence techniques and strategies, of each kata. The journey is also a personal one as kata will teach you as much about yourself as it will about karate.
There will be times in your journey ahead where kata will mentally challenge and frustrate you. It will cause you to doubt and question yourself. Such is the nature of kata. But as you continue to work on it, with persistence you will achieve major breakthroughs and as a result grow in confidence and self-esteem. You will develop an appreciation that you can achieve those things you put your mind to, and take disciplined action towards.