Digital Training Pass Scanning App Instructions
In conjunction with the rollout of Direct Debit Unlimited Training Fees as our preferred payment option, GKR Karate has introduced Digital Training Passes for the first time ever.
These passes work in the same way as the boarding passes for most major airlines and as such should be a familiar user experience for many of our students and will become even more so familiar into the future. Passes will be issued individually for each student on direct debit and distributed via email the following business day after submitting their direct debit contract.
What you need to know:
What do the passes look like?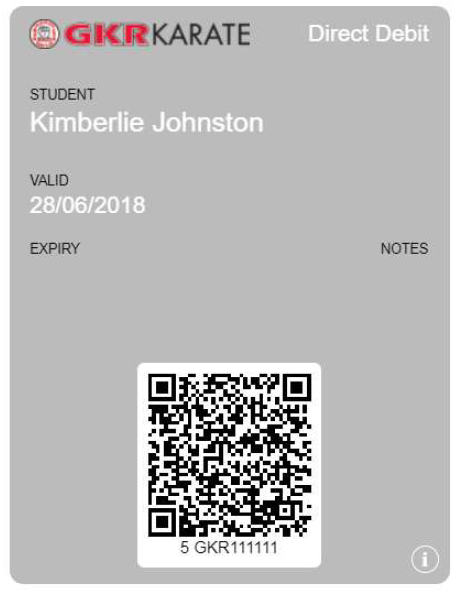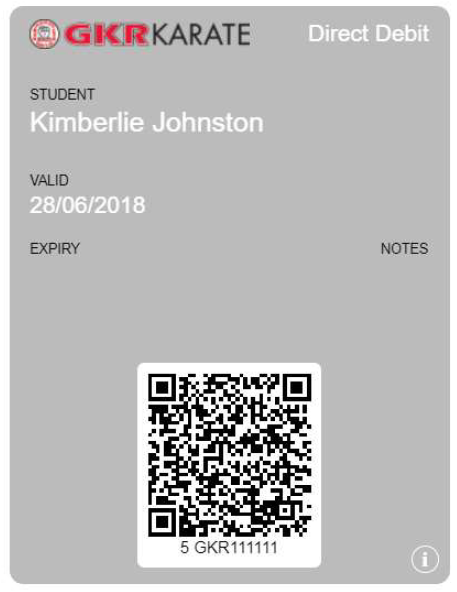 Here is an example of a pass. ALL Direct Debit Passes will be grey, and their validity begins on the date shown under "Valid".
If a student cancels their direct debit, a date will appear under "Expiry" and an explanation under "Notes" if the student is using their pass within the Apple Wallet, or Android WalletPasses applications.
These apps will be recommended as the preferred method of storing these passes for students.
What if a student doesn't use these applications?
It will be highly recommended that students use the passes within the apps on their devices. Doing so will ensure that any updates to the passes (ie expiry date, spelling of their name, T&C's on the reverse etc) will be actioned in real time as we change them in the database.
However there are many cases where a student might wish to use the link to the pass independently of these apps, or even use a printed or screenshotted version of these passes. This is completely acceptable, and students will be advised of these options also in the email where they receive their passes.
What software do I require as an Instructor?
You will need to download a specific application to enable you to scan the passes. Please see below
details for instructions relevant to your device.
Apple Device Users:
Please download this specific app here.
Once downloading has been completed, please Click on this link

from within the device containing the app to automatically perform app configuration. Once this is complete, you can scan the pass above to test that it is working correctly.

Setup is complete
Android Device Users:
Please download this specific app here.
Once the app has been downloaded, open the app and click on "Settings" in the top right corner"
Ensure the box marked "Open Websites Automatically" is ticked.
Scan the barcode on the above pass to configure the app.
It should prompt you to enter a code – use the code "gkr". As long as your device stores cookies/passwords, you should only need to enter this once.
It should now take you to the results of the scan. Once complete please re-scan the pass above as one final test.
Setup is complete
What Do I Do When a Pass is Presented in Class?
When a pass is presented in class, regardless of whether it is printed, provided as a screenshot, within the Wallet app or other – please first check the student name and expiry date. If these are both ok, you can proceed to scan the pass using your Pass Scanner app.
Upon scanning you will see a message confirming that the pass is valid or invalid.
(If you don't have a smartphone, or it runs flat, or for any other reason don't have access to a device in class, you can still please check the name and expiry date visually on the pass)

What to do if a pass scans as 'Invalid'?
During the initial rollout of this new system, if a pass scans as "invalid", and there is nothing recorded under "Notes" on the front of the pass (ie "Direct Debit Cancelled"), please let the student train, but ask them to get in touch with the Support Centre the next day to investigate the cause.
Please also make a note for the Regional Manager to follow this up with Support Centre also.
Your Feedback is appreciated!
We are keen to get any feedback you have regarding this system and how you go with it. If you have any questions, problems, queries from students etc, please don't hesitate to let us know via email at smedia@gkrkarate.com
Thankyou for your assistance!