Would you like to…
Build a stronger mind and body

Feel more confident and self-assured

Enhance your fitness

Lose Weight

Become more self-disciplined

Improve your child's concentration & general behaviour

Develop inner calm

Reduce stress levels

Achieve your Black Belt

All of the above!
Welcome to the GKR Karate Narellan Prime dojo
Karate is one of the most popular and respected Martial Arts in the world. GKR Karate promotes Karate for everyone, including children from 5 yrs old through to men, women and families of all ages.
Apart from the obvious development of self-defence skills, Karate training builds confidence, self-discipline, determination, focus, courtesy, self-control and of course fitness.
Our classes are taught by passionate instructors who are committed to teaching and passing on the GKR Karate style and our way of life. When you join our club, you will be joining a community of like minded people who share the same common goal of personal improvement. This will be your journey, and you will be encouraged to train at your own pace. Your instructors and peers will be there to support and provide you with a safe, inspiring and empowering environment to develop your skills, and reach your maximum potential.
Training with GKR Karate will provide you and your family the foundations for life-long personal development and growth.
Take your first step towards an exciting and enriching Karate journey… Join us now for your free trial class.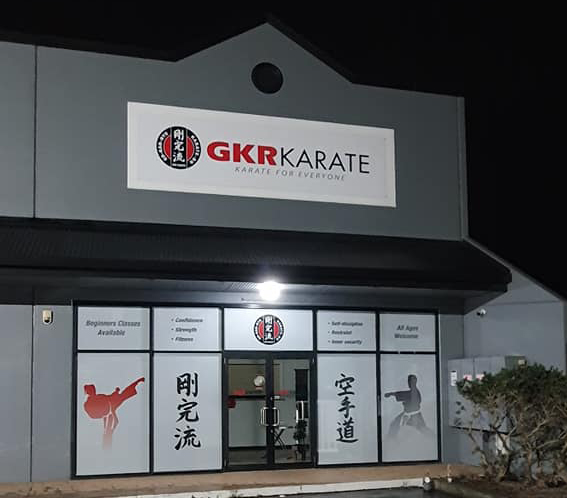 Friendly environment. Holistic for body and mind. Excellent Senseis. High standards. I would recommend GKR karate to anyone who wants to learn Karate. Karate is not a sport, it is a way of life.

Cherif Helou - Wattle Grove, NSW
As a first time student i felt welcomed by the staff, i didnt feel like i was judged from my ability. The session was well organised, the instructors were professional, and the venue was clean and tidy.

Antonio Zappia - Horsley, NSW
Fantastic facility and great instructors provide a friendly, enthusiastic environment to learn karate and develop you own skills, confidence. I would highly recommend training with GKR karate. My family and I have met lots of great people and thoroughly enjoy every class, it such a great activity to do with you family Thank you Sensei Ash for always welcoming us.

Dimitri & Helen Zaloumes - Earlwood, NSW
Great environment for beginners, adults and kids! Established club with a new center!

Adam Tobin - Bradbury, NSW
GKR Karate is an amazing karate club. My family and I have been training with GKR for many years. GKR is more than just a club, it is a family.

Alicia Ryan - Minto, NSW
Great team of Senseis and fantastic students. Outstanding facility and the range of classes cater for all skill levels.

CJ Jakes - Spring Farm, NSW
If you have any questions that are not answered below or require further information, please get in contact with us here.
---
Why GKR Karate?
GKR creates the right environment for our members to train in. Although we promote self defence and fitness, our style also fosters positive values, confidence, discipline, focus and well being. GKR teaches you not only how to punch and kick, it teaches you to be a better person.
We encourage students of all ages, from all walks of life to join our club and be part of the supportive 'family' that is GKR Karate.