Would you like to…
Build a stronger mind and body

Feel more confident and self-assured

Enhance your fitness

Lose Weight

Become more self-disciplined

Improve your child's concentration & general behaviour

Develop inner calm

Reduce stress levels

Achieve your Black Belt

All of the above!
Welcome to the GKR Karate
Cameron Park Prime Dojo
Karate is one of the most popular and respected Martial Arts in the world. GKR Karate promotes Karate for everyone, including children from 5 yrs old through to men, women and families of all ages.
Apart from the obvious development of self-defence skills, Karate training builds confidence, self-discipline, determination, focus, courtesy, self-control and of course fitness.
Our classes are taught by passionate instructors who are committed to teaching and passing on the GKR Karate style and our way of life. When you join our club, you will be joining a community of like minded people who share the same common goal of personal improvement. This will be your journey, and you will be encouraged to train at your own pace. Your instructors and peers will be there to support and provide you with a safe, inspiring and empowering environment to develop your skills, and reach your maximum potential.
Training with GKR Karate will provide you and your family the foundations for life-long personal development and growth.
Take your first step towards an exciting and enriching Karate journey… Join us now for your free trial class.
Click here to view our Timetable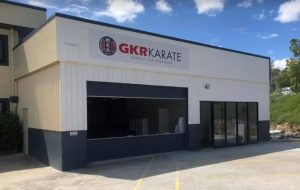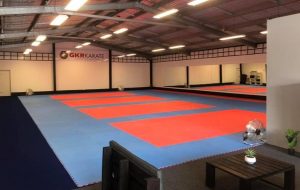 We came to karate in search of an activity to help our daughter build esteem, confidence, respect, discipline and active listening. I can honestly say that this is hands down the best thing I have ever invested in for my daughter. She is more confident, happier and doing better in school. All their instructors are amazing and really fun to work with. Highly recommended!

Robert Garcia - Blue Haven, NSW
These guys have really got it right. No matter who you are, what your goals, they know how to find your best you, feel part of the club and always able to have a laugh. Congratulations GKR on outstanding navigation of COVID and keeping everyone engaged. Your stringent hygiene management and spacious new training space is just what we need now. Great place to get inspired!

Michael McNamara - Kotara South, NSW
Great atmosphere for children and adults to learn and train with knowledgeable instructors. Highly recommended!!!

Joshua Spence - Cardiff, NSW
If you have any questions that are not answered below or require further information, please get in contact with us here.
---
Why GKR Karate?
GKR creates the right environment for our members to train in. Although we promote self defence and fitness, our style also fosters positive values, confidence, discipline, focus and well being. GKR teaches you not only how to punch and kick, it teaches you to be a better person.
We encourage students of all ages, from all walks of life to join our club and be part of the supportive 'family' that is GKR Karate.