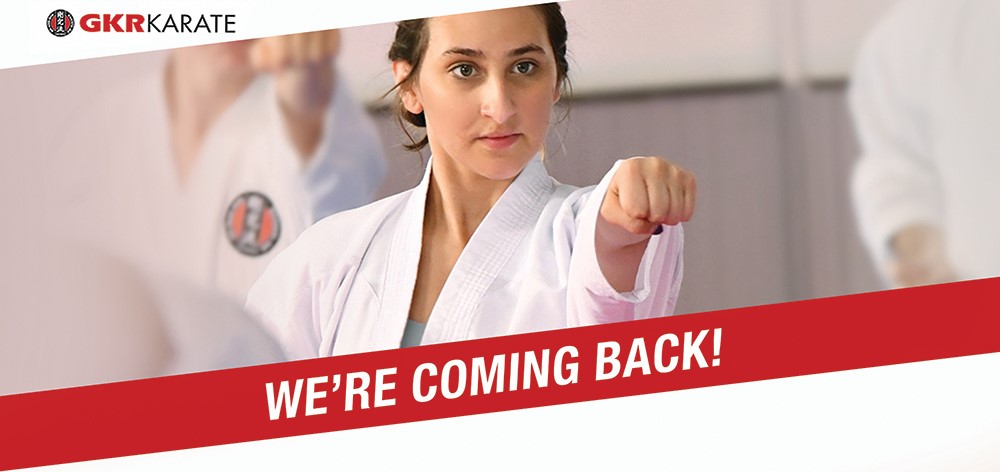 Dear UK Students, Parents and Caregivers,
We hope you are in good health and looking forward to the next few weeks as we start returning to some of our normal routines. If the government's roadmap for re-opening stays on track, our karate classes will be able to re-open very soon with students under 18 years able to come back first, followed soon after by adult students.
We are currently in the process of securing a re-opening date for each of our training venues, and should have the majority of them ready to go by the scheduled start times. Here's a breakdown of our re-opening dates and conditions:
Students Under 18 years / Children
Our classes can re-open for children (U/18) from Monday 12th April onwards. This is just over a week away – not long to go now! We encourage all of our young students to dust of their gis and re-join us from this first week back. Your regular Sensei team will be awaiting your return and can't wait to see you all!
Fees: Given that training for juniors resumes halfway through April, U/18 students will only pay a training fee of £15 pp during April (up to a maximum of £30 per family). Full monthly training fees for U/18 students will resume from the month of May onwards.
Students 18 years and over / Adults
Our classes can re-open for students of ALL AGES from Monday 17th May onwards. We will send you a reminder email closer to this date and will continue to conduct live Zoom classes in your area between now and then. If you haven't yet attended one of our LIVE online classes, then now may be a great time to start as you prepare your body for a comeback to the dojo! Please contact your local Regional Instructor if you would like more details about these online classes.
Fees: Given there is only 2 weeks or less left at the back half of May for adult students to attend classes, we will be keeping all training fees for adults at the current reduced rate for the month of May (ie: £9.95/mth). Full monthly training fees for adult students will resume from the month of June onwards.
Family Memberships
Fees: If you train as a family with some members U/18 and others over 18, then your fees will only be £15 per child during April (up to a maximum of £30 per family). You will also only pay a discounted family rate during May in recognition of the later (May 17th) start date for adults. Your normal family rate will resume in full from June onwards.
NOTE: Student's training fees will continue being reimbursed in part via cheque each month until they return to their normal full rate. The amount of reimbursement each student receives through April and May will be adjusted to reflect the official re-opening dates, student's ages and dojo availability. If your local dojo has not yet re-opened, then your monthly training fee will remain at the current reduced monthly rate until it does (ie: £9.95/mth).
Find Your Local Class Re-Opening Timetable 
Please click HERE to check out the re-opening dates for your local dojo(s).
Covid-Safe Training Protocols
Whilst we will continue liaising with health authorities to ensure we are fully compliant with any Covid-Safe requirements, we will already be implementing our own set of safety strategies upon re-opening. Amongst other things, this includes the temporary suspension of partner drills, sparring, or the use of any shared equipment such as kick shields. A more complete list of these temporary protocols can be found HERE.
Summary
This lockdown period has obviously been a challenging time for all of us but we are now hopefully seeing some light at the end of the tunnel! We're certainly ready to celebrate the re-opening of our classes and hope that you can join us again as soon as possible.
Please contact us on adminuk@gkrkarate.com if you have any queries. Alternatively, your local Regional Instructor's contact details are listed on your class timetable. We look forward to seeing you soon.
Regards
GKR Karate