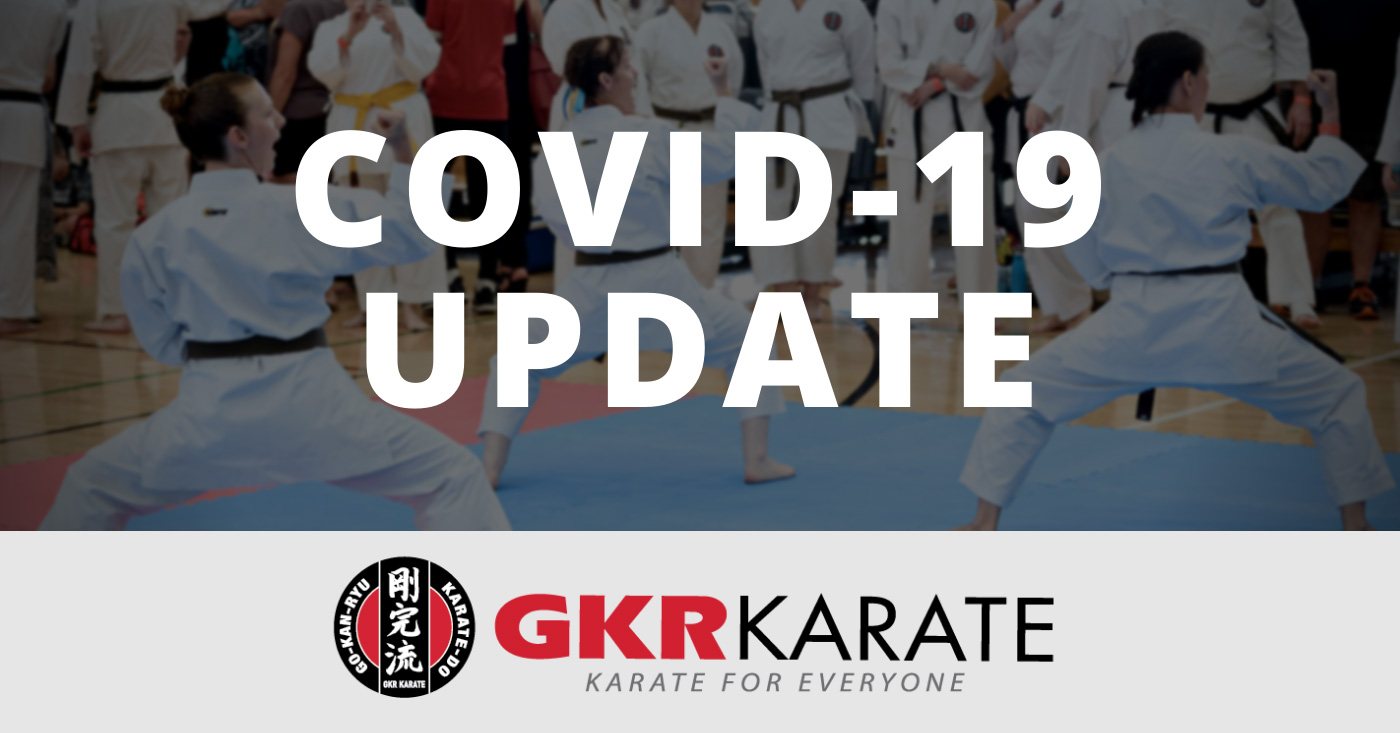 Dear GKR Karate students and families,
Over the past 7 days, we have been closely monitoring the daily (and sometimes hourly) Coronavirus updates being released by the government and official health authorities. Last Monday the 16th March, we initiated a series of added safety protocols into our classes relating to safe distancing, hygiene, and the removal of physical contact activities. We also postponed all larger events such as combined seminars and tournaments.
In taking these steps, we were not only following the advice that our industry's governing body was promoting at the time, but we were also being guided to some extent by the fact that many gyms, pubs and restaurants were still operating, and most importantly that schools were still open.
As we all saw however, the threat levels being expressed by the government grew exponentially throughout the week, and once it became apparent on Wednesday/Thursday that schools were about to close, we made a decision on Friday morning to invoke our own UK-wide shut-down of all classes. We were initially intending to commence this shut-down from Monday 23rd March (in line with the schools) and began preparing an official message for all of our students and instructors.
The announcement by the Prime Minister on Friday afternoon that all gyms and indoor activities such as ours must cease, has effectively made that announcement for us, but we still wanted to communicate to you directly here, nonetheless. Needless to say, as a result of the PMs announcement, we have moved our original closure timetable of Monday forward, and have ceased classes immediately.
I would like to thank all of the people who contacted us over the past week to express either their support or their concerns about our approach towards the situation. Like most organisations, we have been grappling daily with the issue and have relied heavily on the information coming from official health bodies. A lot has happened in the last 4-5 days, and in the end we appreciated the government's decisive instructions and support whatever strategies they are putting in place to keep the community safe.
WHAT'S NEXT? – WE'RE GOING ONLINE FOR NOW!!
Within the next few days, we'll be making contact with you about our plans to provide GKR Karate UK students with high quality training materials and regular online tuition throughout this period of closure. We are confident that you will find this material to be invaluable as it will give you exposure to many of GKR Karate's most senior instructors, and offer you the opportunity to stay engaged with the GKR community until we can re-commence normal training.
In the meantime, we wish you all the best of health, and hope that the widespread closure of businesses is not impacting you and your family too severely.
Thank you again for your support and understanding.
Kancho Robert Sullivan
Chief Instructor
GKR Karate
21st March 2020
adminuk@gkrkarate.com